Developing Leaders
Leaders make change – together.
Coleman parent and student leaders are the rare, courageous neighborhood residents willing to move others from apathy into action. They face extraordinary battles and crises in their personal lives, yet they find the hope and inspiration to lead membership meetings, attend leadership workshops, make hundreds of phone calls and mobilize other members to speak out at public hearings. On any given week, a Coleman leader will be speaking to a public official, facilitating a school site membership meeting, learning about the state budget, negotiating with a school staff person, or taking time out of their day to have intense, one-on-one conversations with their peers about making change with Coleman families.

Together, Coleman leaders in YMAC, PMAC & SMAC develop a critical analysis of the world, gain the skills to make change, build unity across our many differences, and win concrete improvements for our community. It is hard work. It takes courage, and sacrifice. We evaluate our setbacks, and when we win, we celebrate!
Click here to check out Coleman's Tumblr that includes several photo series' highlighting our youth and parent members. 
CLICK HERE TO DOWNLOAD PMAC'S CURRENT BROCHURE DETAILING PMAC'S 2015-16 CAMPAIGN GOALS
Through our Grassroots Leadership Institute and issue campaigns, Coleman members:
Receive intensive leadership training workshops in their schools, at our Center, and at our annual Leadership Retreat;

Participate in hands-on leadership opportunities, like public speaking, and facilitating member meetings;

Lead peer workshops at YMAC, PMAC & SMAC membership and leadership meetings;


Receive one-on-one support to accomplish personal goals, with an emphasis on academic support for our high-school students and support to gain life-long self-advocacy skills.
YMAC Youth Leader Xochitl Montano
"YMAC taught me to never be afraid to ask questions and to always stand up for what I believe in. YMAC also taught me how to be a better facilitator. And I'm much more confident in my ability to have conversations with lots of different kinds of people and to express my opinions. A lot of the things I've learned are life skills that will help me to succeed in all aspects of my life, not just organizing. Also, I used to be a super impatient person and I learned patience from YMAC. I never knew how slow progress can be and how much hard work it takes to make real change until I helped to lead the Solutions Not Suspensions campaign. I learned that even if it can sometimes feel like a lost cause, you have to keep trying and keep fighting because change doesn't happen overnight. Coleman's school discipline work is really important to me because I am someone who has had to deal with a lot of unfair suspensions and it really messed me up and made me feel unwelcome in my own school and so I was determined to change things so no one else would have to experience what I had. I also realized how important it is that there are teachers that can relate to the experiences of their students and so I've decided that I want to be a High School teacher in SFUSD."
PMAC Parent Leader Mildred Coffey
"Being a PMAC member has taught me how to be a strong advocate for my kid and for all SFUSD students and parents. Having an African American son means I am constantly afraid for his future. I'm afraid for his life because of racist and violent police and I'm afraid for him in the schools because there are teachers and administrators who prejudge African American children – they have low expectations for them and assume they are aggressive and they assume that we as African American parents don't care about our children's educations. My son Joseph is a 7th grader now and he has always been a critical thinker with lots of ideas. In 6th grade, he was constantly being shut down and told to be quiet for asking questions in class. And when he tried to advocate for himself or he got upset about being disrespected, he would get kicked out of the classroom. PMAC taught me how to advocate for my child and how to advocate for systemic change and both Joseph and I started fighting for change in his school and at the district level. We testified together before the Board of Ed and I've met with teachers and administrators at his school. I've helped to organize other parents to lead changes in his school, both in how conflict is dealt with and also the kinds of emotional and academic support students are receiving. I have learned so much from PMAC that now I am able to recruit and mentor other parent advocates and carry out educational workshops. So many parents are afraid to speak out and to say what they are going through. It is so important for parents to have a space where we are not prejudged and where we are believed and we can receive real empathy and support. There is no other space like Coleman where we can be fully authentic and express ourselves and share our experiences. It's the same thing for the youth. Joseph has grown so much from being able to participate in YMAC and from getting so much love and support from Coleman staff and members. And saying you work with Coleman carries weight. People listen to you. I really believe that if it wasn't for Coleman, my baby would be in jail right now. But instead he just made honor roll and he is Vice President at his Middle School!"
YMAC Youth Leader Carlos Linton
"YMAC taught me how to be a leader. I've learned skills for handling problems in my own life and solving problems in my school and community. I've learned how to be really organized and how to do time management and how to create a campaign plan and facilitate meetings and workshops. Last month, I was nominated and got voted on to the Coleman Families Leadership Council. Being on the CFLC will make me an even stronger leader because I'll get more training and I'll be helping to make program and campaign strategies. Probably my most powerful YMAC experience ever was going to the Movement for Black Lives Convening in Cleveland last summer as a Coleman rep. It meant a lot to me that I got to have conversations

with people who are fighting for justice because their family member had been killed by the police – like the family of Oscar Grant and Mike Brown and I even met Emmet Til's cousin. I left the convening feeling like I want to work even harder to make change and like I'm part of a national movement with real power."
PMAC Parent Leader Sylvia Velasquez
"When I first got involved with PMAC I was very shy to talk about my experiences or feelings but now I speak all the time to other parents, to district leaders, at Board of Ed meetings, and door-knocking for elections − and I am not shy or ashamed. PMAC helped me to feel comfortable and confident and pushed me to speak even when I was afraid. I don't speak very good English but I know that what I have to say is important and I have a right to express myself. I tell other parents even if they don't speak any English, their voices are important and they have a right to be heard. Before I was in PMAC, I didn't even know I had rights or that my child had rights. PMAC lets us know about our rights and gives us the tools we need to advocate for our children and fight for change because all our children deserve a good and equal education, especially our African American and Latino children who have been segregated and are not getting the support they need to be successful. That's why our new PMAC campaign Saber es Poder: Knowledge is Power is so important. We are educating parents and the district about what real parent engagement looks like and demanding better support from the district like parent workshops, parent summer school and community-building spaces for parents on campuses. I've met so many parents with the same struggles as me and the same ideas for change and we are so much stronger when we come together."
YMAC Youth Leader Anthony Dade
Anthony is a junior at Burton High School. We first met Anthony through a school program we co-facilitated with a teacher at Burton. The program worked with 15 at-risk sophomore male students of color. It included after school sessions and a weekly leadership lunch with guest speakers, seminars, and workshops, as well as one-on-one coaching and weekly progress reports. Workshop topics included Restorative Practices and Restorative Justice, Solutions Not Suspensions, self love and self respect, racial justice in schools, education as a form of resistence, community organizing, meeting facilitating, public speaking, creating change, know your rights, planning and evaluating, and power and oppression, among others. All student-participants, many of whom were previously truant or failing classes, committed to maintaining 3.0 GPA and becoming student-leaders of organization's dedicated to making a concrete, positive impact on their community.
Anthony joined Coleman's youth organizing project Youth Making a Change, as part of his participation in the Burton program. Since then, he has helped to organize campaign actions and community events, carried out student outreach and recruitment, and facilitated convenings, meetings, and workshops.
Click here to read more about Anthony
 YMAC Youth Leader Rosie Balberan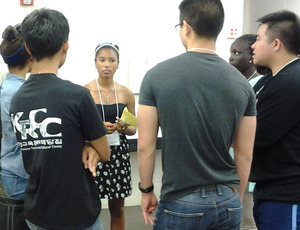 A student at Balboa High and the youngest of three siblings, Rosie was born and raised in Southeast San Francisco. She first learned about Coleman and YMAC (Youth Making a Change – Coleman's high school youth organizing project) at a School Club Fair her freshman year. Coleman is a co-founder and helps to lead the Solidarity Organizing Project (SOP) – a student Club at Balboa High – in collaboration with POWER, Bernal Heights Neighborhood Center and faculty at the school.  SOP brings together youth members of multiple organizations to participate in joint leadership development and civic engagement activities and projects. One day after school, Rosie accepted a friend's invitation to visit the Coleman community center. Within no time, it was as if she had always been part of the Coleman family.  Now a sophomore, Rosie is a full-fledged "Colmie" and one of the organization's strongest leaders, of any age.
Click here to read more about Rosie!

PMAC Parente Leader Yasmara Moraga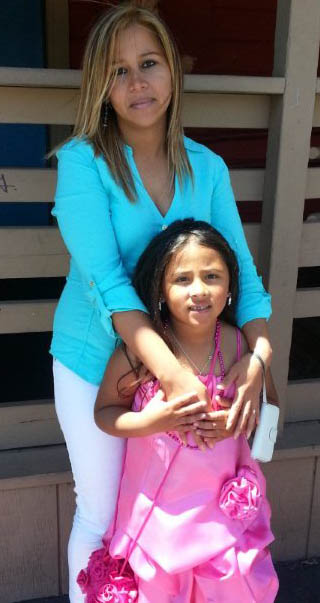 The proud mother of a 1st grader at Cleveland Elementary School, Yasmara lives with her family in the Excelsior district of San Francisco and has worked primarily in the janitorial field in the eight years since she came to the U.S from El Salvador.
Yasmara was inspired to attend her first PMAC (Parents Making a Change – Coleman's parent organizing project) meeting over a year ago after a Coleman Parent Organizer approached her at her child's school and engaged with her about her concerns as a parent and her ideas about improvements to the school.
Yasmara has since recruited new members to PMAC, led a range of fundraising efforts for school resources, and played leadership roles in multiple PMAC efforts, including a successful campaign to expand tutoring and literacy resources for students at the school.
Click here to read more about Yasmara! 
PMAC Parente Leader Yasmara Moraga Evelyn Cornejo
Originally from El Salvador, Evelyn moved to the Excelsior district of San Francisco in 2001 and has called the neighborhood home ever since.  She first started coming to PMAC citywide meetings when her oldest child was enrolled in the Head Start Program housed in Coleman's community center.  It was evident that Evelyn was a natural organizer from day one, but it wasn't until two years later, when her daughter was enrolled as a Kindergartner at Cleveland Elementary School, that Evelyn stepped fully into her leadership potential.
Coleman wasn't yet working onsite at Cleveland when Evelyn first began advocating for reforms at the school.  She had always been actively involved and forward thinking when it came to her daughter's education, and when she learned that Cleveland was one of the only schools in the district without a student computer lab, she immediately took action.  Evelyn made her case to teachers, the Principal and others but, again and again, she was told there just wasn't any money in the budget for technology.
Click here to read more about Evelyn
PMAC Parent Leader Leida Ruiz
"No one knows my children and what they need better than I do."
When Leida joined PMAC in 2007, she was shy, soft-spoken, and unlikely to speak up in a meeting. Now she is one of PMAC's most outspoken and effective leaders.
Last year, when Laida and other parents of kindergarteners at Cleveland Elementary School found out that for the first time in recent history, the school would not be carrying out the traditional parent-led Kindergarten or 5th grade graduation ceremonies, she immediately stepped up to lead a community intervention.  Kindergarten graduation is a very significant milestone in Latin American communities and the cancellation – which came with no explanation and only a couple weeks notice – was perceived as a disregard for Latin American cultural traditions. Leida, supported by Coleman staff, organized the Latino patents at Cleveland and facilitated two meetings with the Cleveland Principal and teachers. As a result of the persuasive case that Leida and the other parents' made and the effective listening and diplomacy skills they demonstrated, relationships were made stronger, everyone left the meeting feeling heard and the administration agreed to reinstate and support the graduation ceremonies. The graduation was ultimately held at Coleman's community center and, inspired by their advocacy success and by Leida's leadership, more than 20 parents joined PMAC on the spot.
Click here to read more about Leida